INSURANCE DEFENSE & LITIGATION ATTORNEYS SERVING CLIENTS ACROSS WASHINGTON STATE
Trust your legal matters to an experienced team of attorneys. With more than 30 years of history, Fallon McKinley PLLC provides clients throughout the greater Seattle, Washington area with knowledgeable legal guidance in situations involving complex civil litigation.
MEET YOUR LEGAL TEAM
R. SCOTT "BUD" FALLON
Attorney at Law
Practicing law since 1968, attorney R. Scott "Bud" Fallon brings an extensive base of knowledge regarding insurance law and defense.

With more than four decades of trial experience, Bud serves as a dedicated advocate for his clients.
NANCY T. MCKINLEY
Attorney at Law
An Alaska native, attorney Nancy T. McKinley worked as a junior high school teacher before obtaining her law degree in 1977.

Joining Bud Fallon to found Fallon & McKinley in 1986, Nancy now represents clients throughout the state of Washington.
DAWNA J. CAMPBELL
Attorney at Law
With experience practicing law since 1995, attorney Dawna J. Campbell joined Fallon McKinley PPLC in 1999.

Dawna serves a variety of clients with legal counsel in matters including class actions, pharmacology claims, auto accidents, and more.
REBECCA MORRIS
Attorney at Law
Since being admitted to the Washington State Bar Association in 2013, attorney Rebecca Morris provides services to a wide range of clients.

Rebecca wrote summary judgment motions to the Washington Supreme Court and the Court of Appeals.
EDEN E. GOLDMAN
Attorney at Law
A clerk for Fallon McKinley prior to attending law school, attorney Eden E. Goldman now provides her clients with an even higher level of service.

Eden works with clients in matters involving employment litigation, personal injury claims, and more.
TERRY HARVEY
Attorney at Law
A veteran of the U.S. armed forces, attorney Terry Harvey brings a wealth of experience to Fallon McKinley PLLC.

Terry previously worked at Safeco Insurance Company for over 30 years, providing him with a broad knowledge of insurance claims handling.
OUR PROCESS
Our primary focus is meeting the needs of our clients. We're proud to help you pursue justice, and have successfully litigated claims across Washington state for over 30 years.
The outcome of your legal matters has a long-lasting or even permanent effect on your future opportunities and stability.
When you or your organization are facing litigation, having the skilled knowledge and insight of a team of experienced attorneys on your side to closely examine the situation and provide direction regarding your legal options is a tremendous asset.
Our attorneys take the time to learn every aspect of your circumstances in detail in order to plan the best path forward available to you in your case.
In important legal situations, having a strong flow of communication between attorneys and clients is paramount.
At Fallon McKinley PLLC, our attorneys place a high priority on being available and accessible to our clients in order to effectively understand their unique situations, provide regular updates on their cases as they happen, hear their concerns, explain all of the options, and answer any questions along the way.
We work to actively engage with our clients to communicate with them about the status of their case.
In complicated legal situations, there are often a variety of options available. It is important to us that our clients are aware of the different possibilities and what each of them entails.
Many legal matters are resolved through mediation without ever going to trial. Our attorneys get to know our clients and then identify creative and efficient ways to resolve their case that best suits their individual needs and goals.
From the onset of our involvement, we look for the most promising pathway to a successful outcome.
At Fallon McKinley PLLC, our attorneys understand from experience that no two clients or cases can be treated exactly alike. In complex legal matters, each case is unique and requires its own plan.
Likewise, we know that our clients come from a wide range of fields, industries, and backgrounds. This necessitates flexibility to develop a legal strategy that both fits the client's needs and helps them move toward a favorable result in their case.
Our attorneys have a strong reputation for creative solutions and individualized service.
WHY SHOULD YOU CHOOSE OUR FIRM?
OUR TOP PRIORITY IS ACHIEVING EFFICIENT & SUCCESSFUL RESULTS
KNOWLEDGEABLE
With backgrounds ranging from a wide array of diverse practice areas, our skilled team of attorneys draws from a wealth of legal knowledge to provide the highest level of service in order to best represent the needs of our clients.
EXPERIENCED
Possessing over 100 years of combined experience, the attorneys at our firm regularly work on and successfully resolve cases involving different industries, allowing our clients to feel confident in the quality of their representation.
ACCESSIBLE
Being able to reach and speak with your attorneys in the middle of ongoing legal matters is important. Our top priority is to maintain clear lines of communication with our clients throughout the course of the legal process.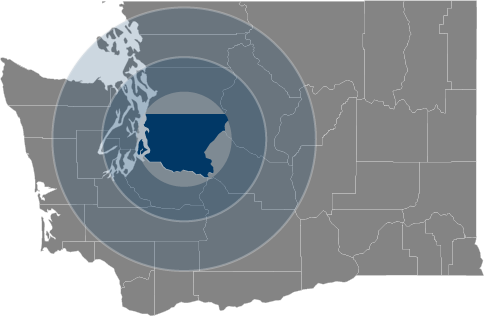 BASED IN SEATTLE, WE PROUDLY SERVE CLIENTS THROUGHOUT WASHINGTON
IF YOU CAN'T COME TO US, WE'LL COME TO YOU
TAKE CONTROL OF YOUR FUTURE
With a history stretching back more than 30 years, Fallon McKinley PLLC provides clients in the Seattle area and throughout the state of Washington with skilled legal representation. Our commitment to the security and future of our clients drives us to offer cost-efficient, creative legal solutions.
While our firm is heavily focused on insurance defense, our experience allows us to engage in a wide variety of practice areas. We proudly represent clients in cases involving personal injury & wrongful death, construction accident claims, consumer protection claims, sexual harassment litigation, and more.
We are proud to hold an "AV" rating from Martindale-Hubbell, and our attorneys are recognized by Washington Law & Politics as Super Lawyers and Rising Stars. Our clients trust our firm to guide them toward favorable resolutions in their legal matters including professional malpractice, insurance coverage litigation, and more.
From our offices based in Seattle, our experienced team at Fallon McKinley PLLC represents a diverse range of clients across the state of Washington through mediation and litigation, and proudly maintain a reputation for providing knowledgeable advocacy and producing a track record of successful results.